Jewellery Care
JEWELLERY CARE 
All Joulberry jewellery is made from either 950 Platinum, 18 Carat Gold, 9 Carat Gold or 925 Sterling Silver* 
If worn and stored with care, your jewellery will retain its beauty and integrity for many years to come.
To keep your jewellery safe and looking positively radiant, we have put together the following care guide.
Best jewellery practises: 
Our rule of thumb is for your jewellery to be the last item that you put on before going out and the first item you remove when coming home.

Our advice is to remove your jewellery before partaking in any activity that risks physical damage to the piece.

Try to limit contact with makeup, perfumes or creams to save these substances getting trapped inside the jewellery and causing irritation to the skin or a dullness to the look of the piece.

When removing your jewellery, do so over a soft surface (such as a sofa / bed) to prevent it falling onto a hard surface which may knock the settings. 

Store each piece of jewellery separately in a jewellery box or pouch to avoid scratching or knocking against other items.

Keep your silver jewellery in a box when unworn to prevent tarnishing.

Polish the metal surface with a soft non-abrasive jewellery polishing cloth to maintain its sparkle. 

Avoid jewellery dips, polishing liquids, ultrasonic cleaning and strong chemicals which can damage certain precious stones and settings.

We recommend periodic examination to assess the security of your jewellery, in particular any intricate settings.
*With the exception of our Leather Bracelets, which are made from genuine leather and stainless steel claps: Although leather will naturally age over time, we recommend that you avoid getting your leather bracelet wet. Water saturation or the heat from steam rooms and spas can cause the adhesive between the leather and clasp to become ineffective, meaning the leather can come loose from the stainless steel clasp. To keep the leather bracelet looking as it is when you buy it, avoid direct contact with water and steam and to remove it when exercising, playing sports, or applying skincare.
Contact us for further assistance.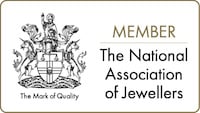 ---